Accessible vs Adaptable Kitchen Design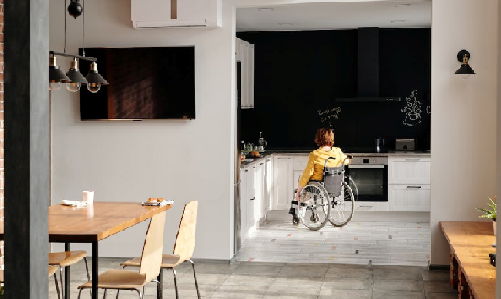 Kitchens are the most used room in the house. At HNL Kitchen & Bath, we design cabinets and countertops that people love. No matter their physical limitations, residents in a multi family building deserve kitchens that are both safe and attractive.
Local and state building codes provide mandatory requirements for accessibility, and our team of planning and design professionals adheres to all regulations. We're accustomed to adapting designs for all types of physical limitations, and provide valuable insights and recommendations during the design phase.
This week's content relies on information published by The Center for Universal Design, College of Design, North Carolina State University, and we appreciate the insights and recommendations to plan and design safe and efficient kitchens.

Here are three important considerations when planning kitchens for your multi family project:

1. Accessible meets prescribed requirements. Accessible kitchens are designed for residents with physical disabilities and feature wider door openings, clear floor space for wheelchairs, lower countertop segments, lever and loop handles on hardware, knee spaces under counters, and audible and visual signals, and switches and controls in easily reached locations, etc. These features are permanent and very apparent, according to the article.
2. Adaptable design is usable by anyone. Adaptable features have been developed and accepted as standards for accessibility, and mean the design can readily be adjusted to the conditions of the resident. For example, knee spaces can be concealed by installing a removable base cabinet that can simply be unscrewed from adjacent cabinets and slipped out when needed. Research shows that many non-disabled people may not prefer the adaptations, and those with disabilities may not use all the accessible features due to the severity of their disability. It is important to know what type and how many spaces best suit your future residents' needs, and we'll discuss this as we develop the building's plans.
3. Universal design meets both accessible requirements and adaptable needs. For example, lever door handles are usable by almost everyone, and may be a practical design solution over round doorknobs. Light switches and electrical receptacles located 15" to 18" above the floor are within reach of most people without bending or stretching.
Meeting code requirements is part of what we do every day at HNL Kitchen & Baths. We take special care to help contractors plan and design the optimal kitchens based on rental goals, demographics, and business proformas. We're driven by the slogan, "Better Cabinets. Better Service. Better Results" for all types of residents, no matter their physical condition.