Shop drawings are the roadmap to a successful project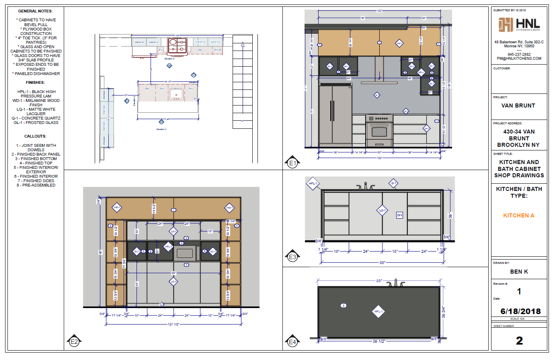 Think back to the last road trip you took, and pretend you didn't have GPS on your phone. Instead, you had a map that you bought at the convenience store (or found in your glove box), and you pulled it out, ceremoniously opened it up, and then you figured out where you were and where you wanted to go. You might have even laid it out on the hood of your car to get the big picture of your trip.
Once you located your starting point, you could see all the details to map the route, and had confidence that you would get to your destination safe and sound.
Shop drawings for designers and contractors are like roadmaps. They are a set of drawings produced by the contractor, supplier, subcontractor, consultant, or fabricator to indicate all the details for a particular scope of work, and serve as a confirmation that the contractor understands what the designer expects during fabrication and installation. In the case of HNL Kitchen & Bath, our shop drawings are the roadmap to building quality multifamily casework solutions.
Here's why good shop drawings pave the path to project success:
1. They're accurate. Just like a good map, shop drawings are created to scale, and include details that are necessary to incorporate in the entire project. For example, their dimensions must be accurate to the wall and doorway details, and the drawers must be sized to fit the actual spaces. Details matter, and we regularly check and double-check that our drawings are correct and precise, which leads to better project coordination with other subcontractors and overall project success.
2. They're complete. No one wants to use a map where the road stops in the middle of nowhere, which could leave you stranded or lost. Our shop drawings are complete, and include all the elements so you know that our products will be built and installed to all your standards. We include cabinet and countertop, grade, hardware, etc. We also clearly include all the levels of approvals (approved, approved as noted, revise and resubmit, or rejected) to keep the lines of communication open. Once approved, we can proceed to the next stage to field verify the units.
3. They're architecture friendly. Finally, no one wants to use a map that's outdated; you could take a route that's been closed, or not take a new route that cuts precious time off your trip. We use CAD base drawing software and we produce them in house so the designer is fully aware of our fabrication plan. Since we're specialists in cabinets and countertops, you can rest assured that our shop drawings are coordinated with minimal changes which means your project stays on course.
Shop drawings are important components in the construction process. At HNL Kitchen & Bath, we've mastered the process of creating excellent drawings that keep your projects moving forward so you can enjoy the ride!